Your best partner for travel, G+J Germany: LEADING BRANDS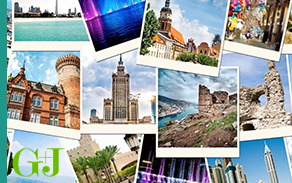 Travel content for every target in Germany.
Germans enjoy travelling more than any other country in Europe. They like even more to get ready for their trips, and be provided by any kind of information and tips, to know all alternatives that the world could offer them.
G+J Germany provides you with a powerful offer on travel content through their wide range of successful titles covering all kind of readersinterests.
Every Brand brings tips in its specific sector and readers search for those particular needs.
No other Publisher offers such a wide range of media covering so different travel contents: from frequent travellers (Lufhtansa Magazin, Geo, Stern), expert travellers (Geo Special, Geo Saison, Nat Geo, Traveler), families (Eltern, Nido,…), special travel & adventures (Walden, Alpenverein, Stern…), gastronomy (Essen und Trinken, Living at Home…), wine tourism (Beef, E&T), architect travelers (Ideat, Hauser, SW), cultural (Art Magazine), shopping (Gala, Grazia, Brigitte), health (Gesund Leben, Brigitte Woman…), sports… (Sky sport, 11freunde, kicker…)
Spain is the favourite destination for the German travellers: between 15% and 25% of the German travellers prefers traditional destinations, where Spain is the leading one!
Take advantage of our powerful reach with the cross media portfolio of G+J for any kind of target and device, combining desktop, tablet and mobile for adapted to all type of budget:
Special issues dedicated to a particular destination
Supplements developing client´s content and covering all their needs
Maps in print magazines and interactive maps in online
Advertorial, "trip or destination of the week/season or month"
Ad-hoc packages
Travel guides
All our brands offer tips, special issues and sections in depth related to the travel sector. Our readers are expecting our advices!