Lufthansa has been rated as europe's first and only 5-Star Airline, making it one of the 10 best premium airlines in the world.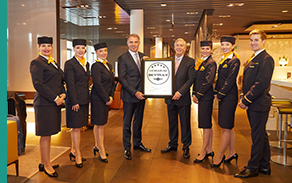 Lufthansa is Certified with the 5-Star Airline Rating SKYTRAX for the quality of its Onboard product and staff service, and the Lufthansa home base Airport service. "Lufthansa is the first European airline that managed to join the ranks of five-star airlines. This is not only a high honor, but also expresses the great appreciation for the progress that the airline has made within the recent years, especially in the service sector." (Edward Plaisted, CEO Skytrax). https://skytraxratings.com/airlines/lufthansa-rating
Lufthansa joins in alongside other 5-star airlines like Etihad Airways, EVA Air, Singapore Airlines and Qatar Airways.
Interested in reaching the attractive Lufthansa target group? Get in touch with your i|MS contact in Spain: info@openlands.es
View the detailed Quality ratings for Lufthansa product (seats, comfort, food & beverages etc), cabin staff service, and ground service standards at Frankfurt and Munich Airports. We want to enphasize the 5 stars in the área of On board products and of course Magazines ranked 5 stars too.
You can find more information here: https://ambientmedia.lufthansa.com/
Have a nice flight!