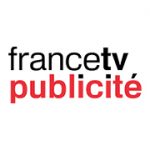 Leading Multimedia Public Group in France
With 5 national television channels, 24 regional branches, 9 overseas antennas and a full range of digital services, France Televisions is France's leading public service broadcasting group.
France Télévisions Publicité is the number 1 advertising sales house in France, with 28% of audience share!
31 million TV viewers watch FTV channels each day thanks to its varied offer in France.
Offers multiple solutions to reach the best target: regional options in France 3 (24 advertising windows) and segmentation by affinity: sports, news, culture, youth… Official TV Broadcaster of main sports events in France: Tour de France, Roland-Garros, Grand Prix de Moto, Football league,…
The group complete its offer including thematic channels reaching more than 17 million viewers per month: Fox, NBC and Turner with exclusive content: Travel (National Geographic, Natgeowild and Voyage), youth (Cartoon Network, Boing, Boomerang), fiction (Rue 13, Syfy), entertainment (E!, Melody,..)
FranceTV  offers also the possibility to reach the world with the international TV channels France 24, TV 5 Monde, DW and Africable. Multiple options of broadcasting your message targeted by feed (region) and by language (French, English, Arabic and Spanish). In Sub-Saharan Africa, FRANCE 24 and TV5MONDE are the two most powerful among the total population and the managers. We also represent Africable, leading channel in Mali and the DSTV bouquet in English-speaking Africa. With more than 10 years of expertise on the African continent, FTPI offers to advertisers innovative media solution in line with the evolution of media consumption in Africa.
More information about France Télévisions Publicité in: www.francetvpub-international.com